Flower & Vibrational Essence Therapy (with Kathryn)
Flower, gem and vibrational essences are simple, natural tools that everyone can use and benefit from. The positive natural energies they contain can help you to achieve greater harmony and balance in your life and help you to move beyond limitations, let go of stress and discover your true potential.
I combine my knowledge of flower/vibrational essences with guidance from your body (gained through Kinesiology muscle testing) to identify the best combination of essences to make into a bespoke blend for you.
I have a collection of over 200 flower, gem, colour and other vibrational essences to choose from, including:
Bach Flower Essences,
Australian Bush Essences,
Quintessentials Flower Essences,
Findhorn Remedies
Crystal Gem Essences,
Colour Essences,
Light Body Essences,
Blueprint Essences,
Rainbow Essences,
Green Man Essences,
Angel Essences
During the session, a full consultation is taken to help me to fully understand the issues you are experiencing at this time. We will then use Kinesiology muscle testing to identify the exact combination of essences to support you, as well as guidance on usage e.g. number of drops to take, when to take them and for how long.
Additional lifestyle advice (e.g. diet, nutrition, exercise, relaxation, sleep) to support your progress may also be suggested through muscle testing. At the end of the session, your remedy will be prepared, ready for you to take away, along with full instructions for using it and any additional advice gained during the session.
Further Information
Kathryn is an experienced Kinesiologist and Kinesiology Federation Registered Practitioner (KFRP). She provides Flower/Vibrational Essence Consultations (using Kinesiology) from her clinic in Kenton (between Exeter and Dawlish). See Prices and Contact for booking information.
Kathryn has experience of working with clients with a range of issues - please feel free to contact her for further information on 07989 285621 or email: mbbalance@yahoo.co.uk.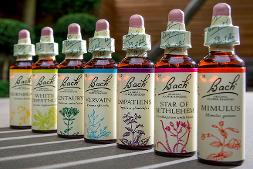 History of Flower Essences
The Australian Aboriginals have always used flowers to heal the emotions, as did the Ancient Egyptians. There has also been a very long tradition of using Flower Essences in India, Asia and South America and they were also very popular in Europe in the Middle Ages.
This healing method was rediscovered by Dr. Edward Bach in the 1930s through the use of English flowering plants. Since then a whole range of other flower, gem and vibrational remedies have been developed. Each remedy can help with a particular characteristic or emotional state.
Contact Kathryn
t: 07989 285621
e: mbbalance@ yahoo.co.uk